NEWS & ANNOUNCEMENTS
---
In January Tom's painting of Reverend Robert Faulkner and his painting of Mrs. Mary Alice Ingram were unveiled in the Mary Alice Ingram chapel in a ceremony marking the 10th anniversary of the Methodist Manor in Florence S. Carolina. Both Reverend Faulkner and Mrs Ingram had been instrumental in the development and success of the home. Tom had worked with family members of both subjects to complete these posthumous portraits.

Below: The Daughter of Mrs. Ingram and the widow of Reverend Faulkner were both very pleased with Tom's portraits of their loved ones
---
In April 2011 Nash's full length double portrait of Otto and Fran Walter was unveiled at Muskingum University in Ohio. The ceremony, to celebrate the completion of the new Walter Hall music building was attended by family members of Fran and Otto, and distinguished alumni and donors such as astronaut and senator John Glen and his wife Annie and representatives of the Walter Foundation. Nash was commissioned to create the portrait of the late Fran and Otto to "welcome all who enter Otto and Fran Walter Hall."

Far Left: Portrait of Otto and Fran Walter

Left: Framed portrait and plaque at Walter's Hall
---
---
Ten of Thomas Nash's portraits were used as background props in the Universal Studios summer movie "The Change-Up" starring Ryan Reynolds and Jason Bateman. High quality reproductions of several of Tom's men's portraits were used in lieu of the originals which are hanging in various public and private collections around the country. The paintings were needed to complete the décor of the lawyer's office for the character played by Jason Bateman.
---
Lois Nash, the beloved Mother of portrait painter Thomas Nash passed away suddenly on Easter Morning of 2011. She was 90 years old. Happily she had lived long enough to be able to travel to Washington DC in 2010 to accept the Congressional Gold Medal awarded to all members of the W.A.S.P. the Women Airforce Service Pilots from WWII Lois had been still driving her own car and living in her own home up until shortly before her passing. Lois was preceded in death by her husband Albert E. Nash in 1995. See more in Personal & Family

Tom will have to complete the portrait he began of his mother from his sketches, photos and memories
---
---
Tom's portrait of actor Tony Randall was unveiled at the Players Club in NYC in the Spring of 2011. Tom painted Mr. Randall for the club's Hall of Fame of distinguished members. This is Tom's second painting for the collection. He had previously been asked to paint Leonard Bernstein. His next project for the Hall of Fame collection is a portrait of actor, playwright, novelist screenwriter and director Charles Bush. Tom will have it completed by summer 2012.
---
In April 2011 Thomas Nash served on the faculty of the Portrait Society of America's during their annual conference. The event, held this time in Atlanta GA. hosted over 800 portrait and figure painters from all 50 states and numerous countries around the world. Tom spoke and also did a unique painting demonstration. He created a portrait of his wife Donna without her posing for it. He also contributed a figure painting as part of the auction for charity held at the conference.

Left: Tom addresses members of the Portrait Society of America at their annual conference

Bottom: Tom's demonstration painting of Donna from memory
---
---
---
Lois Nash Receives Congressional Gold Medal at US Capitol

Tom accompanied his mother Lois to Washington DC in March of 2010 to attend the Congressional Gold Medal ceremony at the US Capitol. Lois was one of 1012 WASP, the Women's Airforce Service Pilots, during WWII. She flew over 17 different planes including her favorite, the B-26 Bomber which she used to tow targets. Over 200 surviving WASP were able to make the trip to Washington and accept their Gold Medals in person. Click here to read more.

Right: Lois Nash holds her Gold Medal following the ceremony at the Capitol
Below: A remembrance ceremony for the WASP who died was held at the Air Force memorial site in Arlington. Here Lois and Tom stand near the base of the Air Force memorial sculpture after the ceremony with Sergeant Nancy Wall, Lois' military liaison during the events.
---
Tom's Teaching Featured in Workshop Magazine Article

The Spring issue of American Artists' WORKSHOP magazine features a ten page story on Tom's teaching during a recent workshop. The article was written by veteran publisher and writer Bob Bahr. It went on sale in late February at major bookstores.
---
Tom Serves on Faculty of Painting Symposium at U. Conn Stamford

In early February Tom traveled to Stamford CT to speak at the Frank Reilly symposium put on by the Connecticut Society of Portrait Artists. The event was moderated by John Howard Sanden. While there he also judged the CSOPA "Faces of Winter" Portrait exhibit along with noted artist and popular teacher Frank Covino.
---
CSOPA gave Everett Raymond Kinstler a Lifetime Achievement Award during
the weekend and Tom was pleased to have the opportunity to say a few
words on behalf of his long time friend.
---
Tom Lectures at Famed Studio Incamminati
In July Tom was pleased to be a guest lecturer at Studio Incamminati, the renowned art school founded and directed by Tom's long time friend Nelson Shanks in Philadelphia PA. Tom gave a presentation entitled "From the Mall to Statuary Hall: Lessons Learned as a Professional Portrait Painter". In a well received marathon four hour evening slide presentation Tom spoke of his training and experiences as a veteran of nearly 40 years in the field and also offered advice and painting tips to the artists taking part in the Intensive Painting workshop and with visiting professional artists in the audience.
He is looking forward to returning soon after stretching his guest lecturer visit to three days at the school, reconnecting with old friends and even doing a bit of painting.
| | |
| --- | --- |
| | Tom used slides to tell the story of how he progressed from a 14 year old artist doing free sketches on the sidewalk of Belleville Michigan in the mid 60's to standing in Statuary Hall unveiling his portrait of the US Speaker of the House in the year 2000. He also spoke of his training through the years. |
| | |
| --- | --- |
| | November 2000 Washington, DC |
---
Tom Serves on Faculty of PSoA Conference
Demonstrates in 2009 Art of the Portrait Face-Off
On Thursday evening, April 23 during the annual Portrait Society of America "Art of the Portrait" conference in Reston VA, Tom was one of the leading artists who gathered together in the Grand Ballroom and painted demonstrations from the same live models. The finished paintings were well received and all were sold in a silent auction that ended during the conference.
Thomas Nash is a full time professional portrait painter and although he enjoys teaching and is very good at it, his own painting and study restricts his teaching schedule. If you are serious about taking your Portrait painting to the next level, don't miss one of the live workshops.
In addition to painting from the model, Nash workshops include
helpful classroom portions on a variety of aspects of Portrait painting.
---
---
Tom Paints the Head of the Federal Reserve Atlanta

In the fall of 2007 Tom completed a portrait of Jack Guynn, the retired head of the Federal Reserve for the Southeast. Jack posed for the painting in his Roswel, Georgia studio. The portrait was unveiled October 15th. This portrait now hangs in the Federal Reserve building in Atlanta, Georgia.


Atlanta Mayor Maynard Jackson Portrait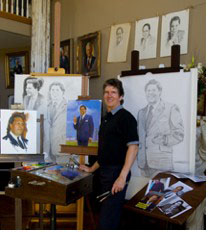 Tom is making progress on his painting of former Atlanta Mayor Maynard Jackson which will hang at the Hartsfield-Jackson Atlanta International Airport when completed. Here Tom surrounded himself with full size charcoal sketches and several studies in oil or charcoal while in the planning stages of the painting.
In addition to recognizing his stature and ability as a painter of official portraits, the selection of Thomas Nash to paint the late Mayor is just one more acknowledgment of Nash's particular skills as a specialist in the painting of the posthumous portrait.

Mr. Sudo of Daikyo Seiko LTD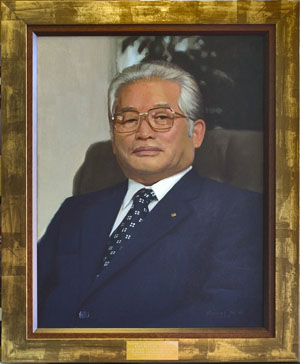 Tom was very pleased to be asked to paint this head and shoulders portrait of the very distinquished gentleman, Mr. Masamichi Sudo. Mr. Sudo is the President of Daikyo Seiko LTD. The painting resides in the company's corporate headquarters in Tokyo.


Mr. Lloyd Whitaker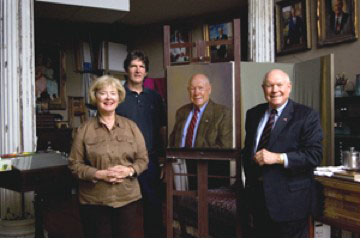 Tom and the Whitakers with the portrait in the studio just
before he signed it.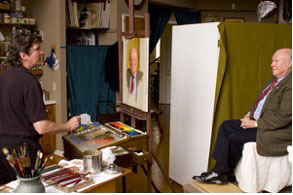 Tom really enjoyed getting to know Mr. Lloyd Whitaker the President of Newleaf Corporation and his wife Mary Ann during his sittings for this recently completed portrait.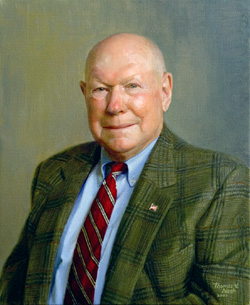 Click to view large version of the finished portrait of Lloyd Whitaker

Tom painting on the beach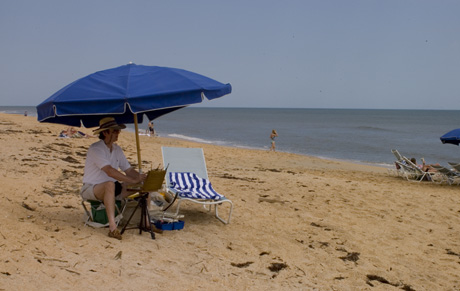 One of Tom's current portraits commissions is of a woman in Florida who he is painting on the beach along with her two dogs. Here Tom uses his small pochade paint box as he works on a preliminary color study as part of his preparation.

Posthumous Portraits:Thomas Nash excels at the posthumous portrait. Because of his many years of painting individuals from life, he is able to bring a sense of life to those paintings that of necessity must be made with nothing more than existing photos and the artist's skill and imagination. more

Unveilings:
Unveiling parties or ceremonies are fun and are encouraged whenever possible for both public and private commissions. This section includes photos taken on these special occasions.more

Portraits in their settings:
Seeing any painting reproduced by itself on the computer screen doesn't always give one a sense of it's scale or how it appears in the "real world". Visit this section to better visualize some portraits in their settings. more