Tom's model was Bill Schroeder, a neighbor of his. Bill is an interesting guy and had Tom not been focusing on describing the painting process to the class, he would've been asking Bill about hang gliding and the other sports he enjoys. One of the benefits of painting people from life is that you get to learn new things all the time. Most adult portrait subjects have led fascinating lives and Tom enjoys learning about them while he paints.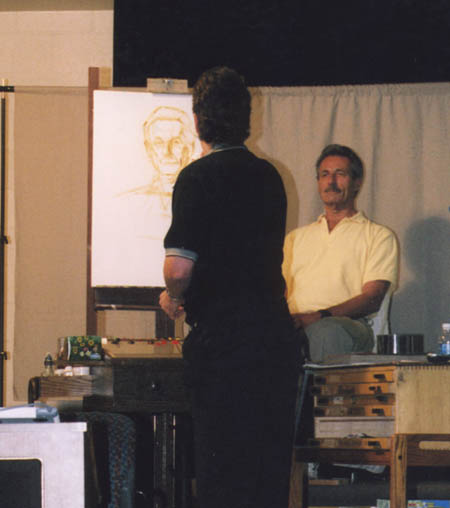 Tom paints on both toned and untoned canvas. For this demo he worked on a plain white one. He began drawing in paint with some unobtrusive yellow ochre knowing the artificial light would mean the colors would generally be warm.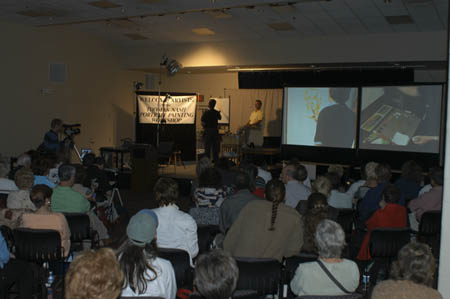 The two-screen arrangement assured that there wasn't a bad seat in the house to follow both the activity on the canvas and the mixing on the palette.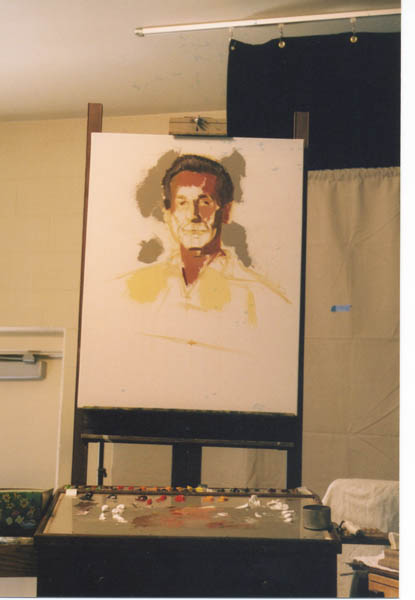 Because the day was about teaching and learning, Tom demonstrated the mosaic type approach to color. He might've simply rendered a likeness with a monochrome of some predetermined colors, but preferred to show how he studies the coloring of his subjects while he paints and pushes for more, not less life and vibrancy.




As Matt took advantage of the camera's zoom, the audience really got a close look at every nuance of the paint strokes.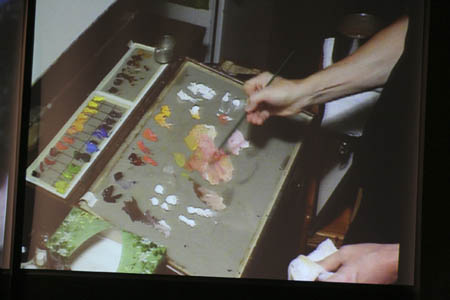 One lesson that many audience members figured out for themselves was that sometimes you don't use every color on your palette. It's like playing a song on the piano; you don't always need to hit every key just because it's there.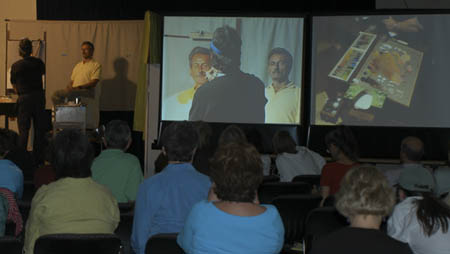 By actively working the camera, Matt made it possible for the audience to see both the model and the painting when he pulled back for a wider shot.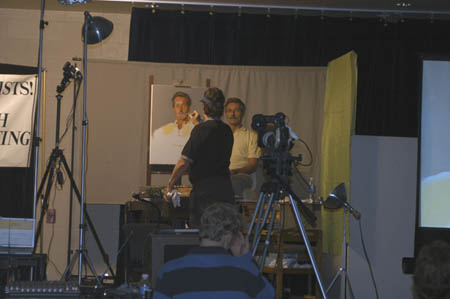 Tom had originally considered painting Bills arms and hands in the picture. Because he concentrated on other things he didn't get around to it. Because Bill is a friend and neighbor Tom left the bottom of the canvas empty so that he might add them later.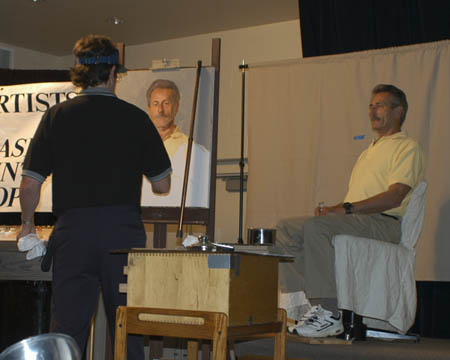 Tom sometimes uses a cane to rest his hand on during the later stages of a painting. It's handy in that it can be easily hung over the canvas when he doesn't need it.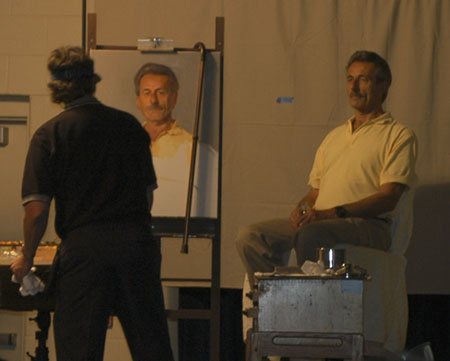 In the beginning Tom kept his taboret between himself and the easel. This kept him from getting up close too soon. Towards the end he moved it aside so that he could step closer to the painting and steady his hand for some finer details.