PORTRAITS






PORTRAIT PROCESS



ARCHIVES







Academy 2006

Helpers and Staff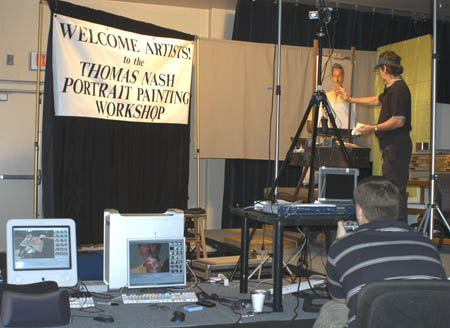 Tom had the assistance of two very knowledgeable and capable high school students, Chris Lemcke and Dominick Forsello. 'We couldn't have done this without them. I was very impressed. They knew more about the equipment than the company that rented it to us.' In the photo above Chris monitors the three Apple computers used to run the slide show, and record what was captured on both cameras and the sound track of the entire event. 'Nick' and Chris coordinated a lot of diverse pieces of AV equipment to made sure there were seamless transitions from one portion of the class to another.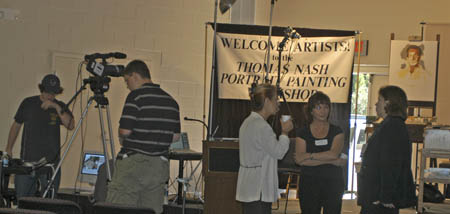 Above Nick and Chris confer during an early break while Portrait Society of America.
Co-Ambassadors Victoria Moore Abbott (left) and Deborah Kepes (right) chat with Atlanta artist Laura Hill.


Christine Egnosti, Executive Director of The Portrait Society of America and Chelsy McCarty, Special Programs Assistant and Heather Walls, wife of Atlanta artist Charles Walls greeted and signed in the registrants as they arrived Saturday morning.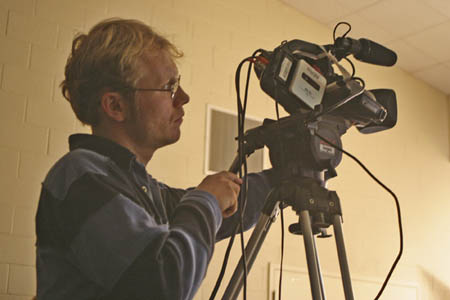 CNN intern Matt Mc Williams manned the # 1 camera throughout the workshop.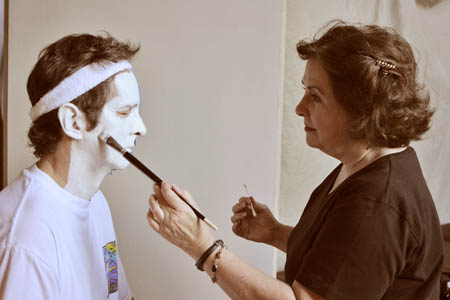 Long time friend and fellow artist, Nancy Honea assisted with many of the Keynote slide preparations. Here she applies white paint to half of Tom's face as he later would point out the workings of light and shade and color under various lighting conditions.



Academy 2005 | Highlights