The Professional Life of Thomas Nash

This year, nationally acclaimed Georgia based artist Thomas V. Nash is celebrating his 37th year as a full time professional portrait painter. At the age of 56 he is a recognized leader in his field.
Notable among his portrait commissions are the official portrait of former Speaker of the House Newt Gingrich that hangs in the U.S. Capitol, the official portrait of former Georgia Governor and Senator, Zell Miller, and portraits of former Senator Sam Nunn and former Atlanta Mayor Ivan Allen, Jr. Nash is currently painting the former Mayor of Atlanta, Maynard Jackson and just completed Jack Guynn the head of the Federal Reserve for the southeast region.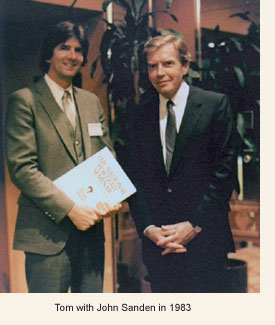 At age 29 Nash received the first of his many national awards for portrait painting in 1981 at the National Portrait Seminar and Competition conducted by John Sanden. He has served on the boards of various professional portrait organizations including several years on the Board of Advisors of the American Society of Portrait Artists and the Portrait Society of Atlanta, where as a charter member, he has also served as president and is one of only four Members of Excellence.




Tom's state of the art portrait painting studio in Roswell, Georgia, is well known to artists from a feature article in American Artist Magazine in 1992. Some of his work is featured in the recently released Watson-Guptill book 'Powercolor' by Caroline Jasper.






Recently Tom has served on the faculty of the Portrait Society of America at conferences in Chicago and Washington D.C. and the American Society of Portrait Artists in New York City, addressing participants and answering questions regarding the art and profession of portrait painting today.

His demonstration portrait at the ASOPA conference in Montgomery Alabama in 1997 was considered by many in attendance to be one of the best live portrait demonstrations they had ever seen. As a member of his community Nash has spoken to students at area schools on career day and contributed to various worthwhile charitable causes.



In 2006 Nash was named by the Atlanta Journal Constitution to it's HOTLIST as THE portrait painter to go to on the Northside of Atlanta. Recently the website AskMen.com was asked to assemble the TOP TEN list of portrait artists today and they placed Nash at #6 right behind four of his long time friends and teachers. He studied with Cedric Egeli, #4 on the list as far back as 1974.