Artistic Background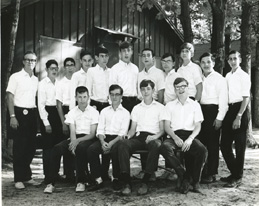 Tom (third from the right top row) in 1966 at Interlochen Center for the Arts in Interlochen Michigan
As a child, fascinated by art of all kinds Nash was certain he would follow in the footsteps of his Uncle Bill (see Personal & Family page) and become an automobile designer. It was at the age of ten, after his first serious attempt at portraiture was both successful and satisfying that he realized his true passion was in painting and drawing the human face and figure.
His always supportive and loving father Albert E. Nash, an engineer by training, with no background in painting whatsoever, enrolled in an adult education oil painting class so that young son Tom could tag along. It was hoped that if he could impress the moonlighting university instructor enough that she would take him seriously as a student. It worked and Tom went on in that class and then privately to study oil painting under a woman he knew only as Miss Rose. He is forever grateful to her wherever she is.
At fourteen Nash began his more formal art studies at the Interlochen Center for the Arts in Traverse City, Michigan. Later as a young man, Nash was able to study privately with various masters of color, anatomy and portraiture. 'I have been very fortunate to have met and learned from artists like Bjorn Egeli, his son Cedric and daughter Carolyn, Henry Henshe, and William Draper in the earliest years of my career between 1971 and 1974.
In the beginning, Nash often worked in pastel doing portraits in public in places like Gatlinburg Tennessee, Cape Cod Mass, Auburn Alabama and Atlanta Georgia. Therefore he was thrilled to meet and study with Daniel Greene the noted master of that medium in 1980 and 1981. Everett Raymond Kinstler is another artist that Nash has felt a special friendship with for more than 20 years. It was Ray who later would advise him on the design of his studio window when Nash was designing his home and studio in 1986. (See article American Artist, Feb. 1992)
Between doing commissions, Nash continued his training at the Art Student's League of New York during the 1980's. Teachers at the League who made an impact on him were artists as diverse as David Leffel working in an old masters Rembrandt style and Jack Faragasso, carrying on the teachings of the legendary Frank Reilly.
In the last seventeen years it has been Nelson Shanks who has been the most instrumental and the biggest source of inspiration in Nash's growth as an artist. 'I felt he was the missing link between the beautiful broken color of the impressionists and the other painters I admired who were able to achieve a more solid sense of form, while still recording sensitive color observations. '
Nash is keenly aware that the pursuit of painting is a lifelong journey that is never over. Even in the last ten years, workshops with Richard Schmid, Burt Silverman and friend Richard Whitney have all brought him to where he is today, painting in his own style with his own methods armed with a wide variety of choices.