PORTRAITS






PORTRAIT PROCESS



ARCHIVES







Painter Thomas Nash Makes Music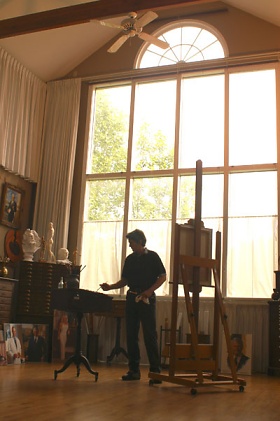 Thomas Nash in his Roswell Ga. Portrait studio

Long time friends and collectors of the work of Portrait painter Thomas V. Nash can rest easy that he hasn't decided to quit his day job after thirty-five years in the profession.

The recent release of his first music CD, "Portrit" Paintin' Blues does not mark a change in his focus or dedication to portraiture. 'Painting, and portrait painting in particular have always been my first love and will continue to be,' says Nash.

So how did someone who usually is holding a paintbrush find himself in front of a microphone and piano? Nash tells us that it was the convergence of two things; his interest in music and his participation and support for various art organizations. Nash has long played a major part at the national portrait painting conventions and conferences. He will usually be found giving a painting demonstration, a slide presentation or answering questions from the hundreds of portrait painters who attend from around the world. In the evenings, after the programs are over it is not unusual to find Nash and his fellow artists congregating in the convention center lobbies and lounges to swap stories and talk shop.

It was on these occasions that Nash often regaled his fellow artists with his own musical compositions about the art world while playing the hotel piano. He was doing just that in May of 2004 in Boston when Portrait Society of America Chairman Gordon Wetmore asked whether he might be willing to entertain the entire group at the 2005 Conference in Washington D.C.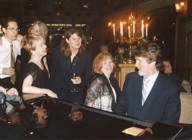 Tom with artist friends in Boston 2004

Those that know Tom well could have predicted what happened next. Whether painting a portrait or any other activity, Tom always believes in doing more than is expected, besides he says, ╬it's a lot more fun that way'. When he was a child when others had newspaper routes, Tom decided to publish his own newspaper. So it was no surprise that given an invitation to play his music for the convention, Tom would take it a step further and record a special CD for the conference participants.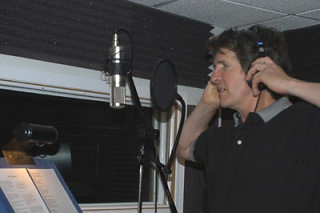 Tom in the recording studio

The three songs are each different. The title song, "Portrit" Paintin' Blues is a tongue in cheek look at many of the typical challenges that face a professional portrait painter. Clients may change their clothes or hair after the painting is started, want it 'fast' but expect a masterpiece, or just don't like what they see in the mirror to begin with. Nash informs us that a line that refers to 'something wrong with the mouth' is lifted from legendary portrait painter John Singer Sargent. In all of his years of painting, Tom has never had a portrait rejected, so in reality, the 'portrit' blues haven't been too bad, and he can still smile through it all.The second song on the CD is titled "Nursery." Tom felt strongly about this song. It reminds us that artists who are also mothers were once little girls with big dreams just like little boys. Raising a family adds an additional challenge, but someone who has literally 'brought life to life' knows that she can do anything she sets her mind to. 'Many of my teachers along the way were woman and I see what they have to do to pull it all together.'

The third song, Three Sticks of Luscious. refers to sticks of pastel. This is meant to be a fun song, a ╬fictitious one' Tom is quick to add. He spent his very early years in the portrait business on the streets of places like Gatlinburg, Tennessee and Provincetown, Massachusetts. where he created hundreds of pastel portraits and met many interesting people.

So how does he feel about his first foray into the recording studio? 'It was fascinating, I was very fortunate to have a great producer, David Leonard. He and I worked together very well. We finished just in the nick of time to get the master to the company to reproduce it. When I arrived at the conference it was literally hot off the press. Had I started sooner I would have done a few more takes. I don't consider myself much of a vocalist. In fact I had intended to call it 'The Painter/ Songwriter, to underscore that I consider myself a painter first and also that it was mostly about the lyrics. I decided against that to avoid confusing anyone that it was an instructional painting CD.

So what does the future hold musically for Thomas Nash? 'For the time being I plan to spend all my time in the painting studio. I have some wonderful paintings I am working on right now and some great clients who waited patiently while I did my music. I am still writing songs. Eventually I know I will return to the music studio and put all my artist songs together on one CD. It would even be fun, being a visual person, to make a music video to accompany some of them.'

Nash knows there has long been a strong connection between art and music. 'Not only were many famous artists also musicians, (Sargent himself was considered a very skilled pianist) but there are parallels in how one thinks about the two art forms. Harmony, rhythm, intervals, emphasis and even color are part of the language of both.'

Today some of Nash's better-known commissions include official portraits of former Speaker of the House Newt Gingrich, which hangs in the U.S. Capitol, Zell Miller as Governor of Georgia as well as portraits of Senator Sam Nunn and former Atlanta Mayor Ivan Allen Jr.

Zell Miller's interest in music is well known, but in 1997 while posing for his portrait in the artist's studio Tom learned that the Governor was also a songwriter. At that time Nash had dabbled but never completed any songs. That this busy person had found the time to do so inspired Nash to apply himself just a bit more in his attempts to tell stories with music.

Tom has said, 'As soon as I started writing about things I really knew about, it started to just flow out of me. It's been a lot of fun."


Order Info